CZ.com | Poems | The Archetypal Mother of Us All

The Archetypal Mother of Us All

Click to enlarge.
lives on our street.
She is ninety-seven years old
and under five feet tall.
She is trimming the cedars
with kitchen shears.
It is spring and the plastic wrapping
around the white wrought iron fence
is now removed. Her son is washing
the car, an old man himself.
In the summer they will open
the garage door and spill the contents
onto the asphalt driveway,
to sell to passing strangers
in an ongoing yard sale.
The ornate wrought iron
is everywhere—
along the top of the garage,
on the front porch,
along the curb,
on the peak of the roof.
There are statuettes
and plastic fountains:
a small cottage
resembling a Mediterranean villa,
in miniature scale and kitschy taste.
I have been sick this winter
and in need of sustenance—
to see her small, bent back
lean over the hedge
with scissors in hand,
old grey quilted coat
tied with a string
around her waist,
crocheted hat on head—
fills me renewed strength.
As the old mother on our street
has endured,
as the women of my ancestry
endured persecution, winter, loss
in both Russia and in Canada,
so can I endure.
We grow older
and the body weakens
but the spirit stirs
and we can bend to trim
the branches,
care for even an aged child,
bring trinkets from their cold place
of storage into the sunshine of summer,
an offering to others,
this kind of barter
between now and death
we call "life."
Copyright by Carolyn Zonailo: www.carolynzonailo.com, 2004

CZ.com | Poems | The Archetypal Mother of Us All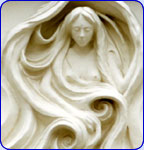 The Wave Goddess

Biography
Born in Vancouver, British Columbia, Zonailo attended ...

Poetics
CZ is a visionary poet who writes with compassion and careful detail about the world she lives in.

Publications

The Goddess in the Garden combines mystical insight and sensual language to evoke a timeless meadow where humans and deities play out eternal passions.

Reviews
She draws on her study of mythology, astrology, and Jungian psychology, for a seemingly inexhaustible source of imagery.

Interviews
There is a quality in her work which makes all her poems hers, but Zonailo's style does differ. Compendium is a collection of short, lyrical poetry; Zone 5 of prose. Each book is an extension of her poetic exploration and a separate expression.

Articles
Over the years of sitting in Grant's Cafe or the Europa and talking poetry with Lewis Gretsinger, the questions have been asked: why write? what are you saying? what are your poetics?

Poems
Last Will and Testament
I give my soul to God.
I give my body to the earth.
I give my poems to posterity.
I give my spirit to tolerance.
I give my mind to the future.

Forthcoming Titles

The Land of Motionless Childhood is a memoir of short stories by Carolyn Zonailo about growing up in Vancouver, and her Doukhobor heritage.

Français/Español

Photo Gallery

Pictures of CZ from her 20s, 30s, 40s and 50s.

Literary Papers
Spanning the years 1955 to 2005, the Carolyn Zonailo Papers holds, as nearly as possible, a currently complete collection of Zonailo's extant literary papers.