CZ.com | Poems | The Attic Room

The Attic Room
I have returned
home, to the attic
I knew as a child.
Up steep stairs
to sloped walls—
in the front room
my older brother,
the back room mine.
My brother has tadpoles
in a glass bowl.
I drop a metal hairpin
into the water
and the tadpoles—
their fins becoming feet—
die, sink to the bottom
of the glass container.
One night my brother
enters my attic room;
he returns again
a second night,
stands silhouetted in moonlight,
not forcing himself
on me but needing
to share his discovery,
just before puberty
wrapped him in shyness.
That Christmas he gave me
a blouse he picked out,
patterned red and black,
my favourite colours.
He put brylcream
on his hair
and called it
a duck-tail;
he painted decoys
for bird-hunting;
taught me
to tie fishing flies
while we listened to Elvis
sing you ain't nothing
but a hound dog...
One time he held
my teddy bear
over the incinerator,
singeing the fur
just to torment me.
In revenge, I broke
the tiny plastic aeroplanes
from the deck
of the model aircraft carrier
he had painstakingly glued.
We kept each other's secrets,
growing up together
in side-by-side rooms,
where the roof sloped in
and my four-poster bed
matched the mahogany
chest of drawers
and mirror with carved frame.
On the mirror
I placed decals
of bluejays and robins,
the kind you dip in water
then peel off,
frail and transparent.
This room above
the rest of the house
was meant for dreaming in;
my own private sanctuary,
the first room I remember
from childhood;
before we moved
away from Ontario Street
and I was given a room
on the main floor.
By then, I was eleven
and my mother would complain
about the mess in my room,
no longer an alcove
in the attic
visited only in darkness,
keeping sacred all
the secrets of the night
and the child's dreaming soul.
Copyright by Carolyn Zonailo: www.carolynzonailo.com, 2004

CZ.com | Poems | The Attic Room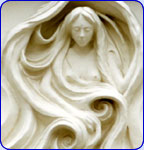 The Wave Goddess

Biography
Born in Vancouver, British Columbia, Zonailo attended ...

Poetics
CZ is a visionary poet who writes with compassion and careful detail about the world she lives in.

Publications

The Goddess in the Garden combines mystical insight and sensual language to evoke a timeless meadow where humans and deities play out eternal passions.

Reviews
She draws on her study of mythology, astrology, and Jungian psychology, for a seemingly inexhaustible source of imagery.

Interviews
There is a quality in her work which makes all her poems hers, but Zonailo's style does differ. Compendium is a collection of short, lyrical poetry; Zone 5 of prose. Each book is an extension of her poetic exploration and a separate expression.

Articles
Over the years of sitting in Grant's Cafe or the Europa and talking poetry with Lewis Gretsinger, the questions have been asked: why write? what are you saying? what are your poetics?

Poems
Last Will and Testament
I give my soul to God.
I give my body to the earth.
I give my poems to posterity.
I give my spirit to tolerance.
I give my mind to the future.

Forthcoming Titles

The Land of Motionless Childhood is a memoir of short stories by Carolyn Zonailo about growing up in Vancouver, and her Doukhobor heritage.

Français/Español

Photo Gallery

Pictures of CZ from her 20s, 30s, 40s and 50s.

Literary Papers
Spanning the years 1955 to 2005, the Carolyn Zonailo Papers holds, as nearly as possible, a currently complete collection of Zonailo's extant literary papers.