CZ.com | Poems | Distance

Distance

Click to enlarge.
There are more variations
on the word "frozen"
than I imagine possible:
moving, in the middle of winter,
to a cold country,
I learn to read
degrees of freezing,
beginning with earth frozen
three feet down,
thermometer plunged below zero
and below twenty below—
days now, I've seen
no more than light
through frosted windows;
the house cracking and groaning
under a burden of cold;
until now, my heart freezes
inside my rib-cage,
ice hidden under snow,
even to walk on this frozen
land is treacherous,
falling onto cement, falling
back through more than thirty
years, to where I am teenaged,
an adolescent boy's body
pressed next to mine,
hot breath on nape of neck.
I wish we could hibernate
through all these cold winters,
burrow together for warmth
under a frozen earth,
our furred bodies becoming
each other's shelter;
or I could become a naked
body frozen blue,
needing all the heat
you generate to melt me,
like a January thaw,
liquid flowing from a body
that was frozen solid.
This little it takes,
to freeze me in my tracks—
your voice speaking
to me in anger—
and I become an ice sculpture,
thawing drop by drop
until I lose all structure.
On the window-pane
fingers of frost
like angel's wings;
we must wait for spring
until any real thaw occurs.
Copyright by Carolyn Zonailo: www.carolynzonailo.com, 2004

CZ.com | Poems | Distance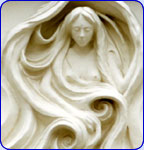 The Wave Goddess

Biography
Born in Vancouver, British Columbia, Zonailo attended ...

Poetics
CZ is a visionary poet who writes with compassion and careful detail about the world she lives in.

Publications

The Goddess in the Garden combines mystical insight and sensual language to evoke a timeless meadow where humans and deities play out eternal passions.

Reviews
She draws on her study of mythology, astrology, and Jungian psychology, for a seemingly inexhaustible source of imagery.

Interviews
There is a quality in her work which makes all her poems hers, but Zonailo's style does differ. Compendium is a collection of short, lyrical poetry; Zone 5 of prose. Each book is an extension of her poetic exploration and a separate expression.

Articles
Over the years of sitting in Grant's Cafe or the Europa and talking poetry with Lewis Gretsinger, the questions have been asked: why write? what are you saying? what are your poetics?

Poems
Last Will and Testament
I give my soul to God.
I give my body to the earth.
I give my poems to posterity.
I give my spirit to tolerance.
I give my mind to the future.

Forthcoming Titles

The Land of Motionless Childhood is a memoir of short stories by Carolyn Zonailo about growing up in Vancouver, and her Doukhobor heritage.

Français/Español

Photo Gallery

Pictures of CZ from her 20s, 30s, 40s and 50s.

Literary Papers
Spanning the years 1955 to 2005, the Carolyn Zonailo Papers holds, as nearly as possible, a currently complete collection of Zonailo's extant literary papers.