CZ.com | Poems | Senior Championship

Senior Championship
Tell me what it feels like
when the pole leaves your hands
and you are momentarily suspended
in the air, without benefit of wings,
flying as high as your effort
and training and will
can lift you—higher than I can ever imagine
being off the ground of my own volition;
for a single second does it seem
the earth will rise up to meet you,
the sky descend toward you,
so that these two elements,
earth and air, will join together
to hold you in a moment
of willing suspension from gravity,
as you soar up
and over the thin but resilient bar
that may bend and forgive
just this once,
staying in place as you brush it
and everyone cheers and calls your name
while you complete your arc
and land on the other side—
but you hear nothing,
only the sound of the wind
as you look back up across the sky
to see the bar still there
and know the medal is yours,
though what you really have won
was that moment of grace,
when you were completely free.
Copyright by Carolyn Zonailo: www.carolynzonailo.com, 2004

CZ.com | Poems | Senior Championship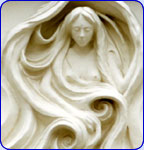 The Wave Goddess

Biography
Born in Vancouver, British Columbia, Zonailo attended ...

Poetics
CZ is a visionary poet who writes with compassion and careful detail about the world she lives in.

Publications

The Goddess in the Garden combines mystical insight and sensual language to evoke a timeless meadow where humans and deities play out eternal passions.

Reviews
She draws on her study of mythology, astrology, and Jungian psychology, for a seemingly inexhaustible source of imagery.

Interviews
There is a quality in her work which makes all her poems hers, but Zonailo's style does differ. Compendium is a collection of short, lyrical poetry; Zone 5 of prose. Each book is an extension of her poetic exploration and a separate expression.

Articles
Over the years of sitting in Grant's Cafe or the Europa and talking poetry with Lewis Gretsinger, the questions have been asked: why write? what are you saying? what are your poetics?

Poems
Last Will and Testament
I give my soul to God.
I give my body to the earth.
I give my poems to posterity.
I give my spirit to tolerance.
I give my mind to the future.

Forthcoming Titles

The Land of Motionless Childhood is a memoir of short stories by Carolyn Zonailo about growing up in Vancouver, and her Doukhobor heritage.

Français/Español

Photo Gallery

Pictures of CZ from her 20s, 30s, 40s and 50s.

Literary Papers
Spanning the years 1955 to 2005, the Carolyn Zonailo Papers holds, as nearly as possible, a currently complete collection of Zonailo's extant literary papers.