Visiting Aunt Annie's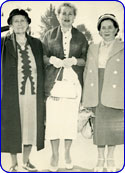 Click to enlarge.
Always the soft sound of the mother tongue
as we sat in Aunt Annie's small house,
the windows in the kitchen steaming up
from all the cooking
and the animated conversations,
half in Russian, half English—
my Dad's face young and laughing,
far away from his wife and children,
lost in the language of his childhood.
Then we ate borsch and vareniki
and cabbage rolls until our stomachs
were so full we felt sick but still Babushka
would be saying "eat, eat"
in her soft, persuasive voice,
a refrain all the aunts
would take up too—"eat, eat..."
Babushka would show us
her latest rag-rug, the coloured rags
braided into long strips,
then circled into a carpet;
I remember the strips made from nylon stockings,
the multi-coloured patterns of the rugs.
The women's bodies soft, too,
like their voices—
fluid and large-bosomed;
the men with shining eyes
and quick laughter
starting to shout now,
then suddenly someone bursts into song
and the others join in, singing in Russian.
Later, when we were driving home
and I am falling asleep in the back seat,
the foreign words I don't understand echo
in my mind like a lullaby, lulling me to sleep.
Copyright by Carolyn Zonailo: www.carolynzonailo.com, 2004