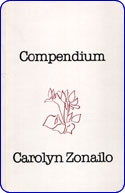 Click to enlarge.
Compendium
Carolyn Zonailo
The Heron Press
Vancouver, B.C.
1985
A collection of intensely lyrical poems by Canadian poet Carolyn Zonailo. These richly textured poems are accompanied by line drawings by the author. These short, song-like poems are flawless in their diction and controlled lyricism. Zonailo allows the reader to both take delight in love while at the same time learn love's lessons.

Critical Praise for Compendium
"Carolyn Zonailo is a lyric poet in the best traditional sense. As the poems of Compendium show, she writes of love as Sappho did, directly and with understated grace…'A Book of Flowers' and 'Compendium', two sequences of pure lyric speech…At their best, Zonailo's poems achieve her desire. In their spare purity, they lyrically illuminate the mystery of love."
Douglas Barbour, Edmonton Journal

"Carolyn Zonailo is another poet who has used a visual medium in conjunction with her literary art. Like the simple line drawings illustrating her book, Zonailo's poems are elegantly succinct… However, the emphasis in Zonailo's work is in every way a matter of language."
Lavinia Inbar, Poetry Canada Review

"Compendium, Zonailo's latest, is also her best…Her poems are stark, powerful and tight…What makes her poetry speak as powerfully as it does is her humanity shining through the words to give the simple messages contained in life—pain, joy, love, grief and desire."
J. Irving, Capilano Courier

"...a book uv discovree hard times n joy highlee acheed art n reel a book abt love... 'sounds spill out'..."
bill bissett