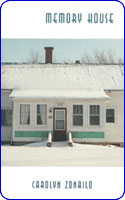 Click to enlarge.
Memory House
Carolyn Zonailo
Empyreal Press
Montreal, Quebec
1995
What poetry should do is to enter into the spiritual. The poems in Memory House reveal moments of "magic" sensibility, when the division between reader and poem is transcended, the barriers collapsed, and conscious thoughts transformed into poetic consciousness. This luminosity in the poem is a gift to the reader—offering spiritual insight that shakes us out of a normal way of thinking. Zonailo's landscape poems are not really about landscape per se, but about inner landscape and psychological perception.
The poems in Memory House evoke a time of innocence, a child's vision of the world. They describe experiences that are rooted in a specific point in family and history, while encompassing a universal time of growing up.

Critical Praise for Memory House
"Carolyn Zonailo's work has moved from early mythic and feminist articulation toward a clear, narrative line which fuses mythic and visionary elements into a documentary clarity rooted in the particulars of her experience.
Here is a distinctive and individual voice. Her ability to delineate a physical landscape, and transform that landscape into metaphors, is one of the strengths of Zonailo's work. Memory House is a collection of poems which focuses on the relationship of place, time and events, to memory."
Marya Fiamengo, University of British Columbia

"Zonailo's poems ring like mellow bells—clean, vivid, vibrant, brilliant. Running through this deceptively simple collection are deep currents that embrace humankind as a whole, and that issue a plea to keep sacred 'the child's dreaming soul.'"
Elizabeth St. Jacques, Canadian Book Review Annual

"Each text impressed me by its limpid grace—neither too vague nor too cluttered with detail, neither strained nor flat, neither cantankerous nor sentimental."
D.G. Jones, North Hatley, Quebec