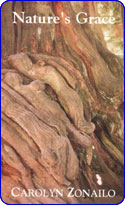 Click to enlarge.
Nature's Grace
Carolyn Zonailo
Empyreal Press
Montreal, Quebec
1993
Nature's Grace is a collection of poems that radiates meditative calm. These are poems of the single moment of grace and clarity perceived in solitude; poems of observation and statement of fact, sometimes surprisingly political, that offer insight into human nature. Their unembellished language both orders and reflects everyday experience. As in Zonailo's previous books, the poetry is intimate and lyrical. In Nature's Grace, Zonailo celebrates those isolated moments of consciousness, "the poem reaching like a hand/ as it touches the back/ of a sleeping partner/ in the middle of the night.

Critical Praise for Nature's Grace
"In Carolyn Zonailo's poetry the quotidian is always under instruction from the marvelous. Looking out of a clear eye, Zonailo tries to find a sure music to translate what she sees into the wonder of poetry."
Bruce Whiteman, U.C.L.A.

"This cross-section of Carolyn Zonailo's many poetic talents succeeds admirably. Zonailo can be lyrical and exquisitely sensuous in one poem, and then caustic, satirical, and downright polemical in the next. Nature for her may have a Wordsworthian gentleness, as in "The View From my Window," or an aura of restless apprehension, as in "The Wild Woman of the Woods." The sequence of pen portraits is shrewd, short, penetrating, nostalgic. The poet's style of presentation is engagingly eyecatching. Consistently she recaptures the short rhythms, the vocabulary, and the tangential asides of everyday conversations."
E.L. Edmonds