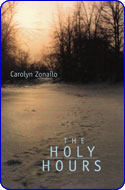 Click to enlarge.
The Holy Hours
Carolyn Zonailo
Morgaine House
Pointe Claire, Quebec
2004
We all experience holy hours: times of epiphany, union, and heightened awareness. The Holy Hours is a collection of poems that celebrates myth, eros, landscape, the luminous making itself known in the midst of the everyday. These exquisitely crafted poems are both mysterious and illuminating. Much can be said in the concise intensity of lyric poetry, in the tradition from Sappho to Blake, Emily Dickinson to H.D. This is a form of poetry where language is evocative, each word is precise, and economy of diction becomes musical.
The Holy Hours is a thematic selection from the early poetry of Carolyn Zonailo—a gathering of CZ's most lyrical, erotic and spiritual poems. The visionary poetry of The Holy Hours offers the gift of recognition, love for the world, and awe at the diversity of creation. Zonailo is a poet with an authentic voice and a unique imagination.

Critical Praise for The Holy Hours
"Carolyn Zonailo is a lyric poet in the best traditional sense…'A Book of Flowers' and 'Compendium' are two sequences of pure lyric speech…In their spare purity they illuminate the mystery of love."
Douglas Barbour

"The long poem, 'The Red Camellias', is a disturbing yet memorable poem. It is reminiscent of the symbolists and early surrealists, and I challenge anyone reading it to remain unmoved."
Doug Henderson