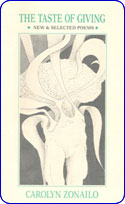 Click to enlarge.
The Taste of Giving: New & Selected Poems
Carolyn Zonailo
Caitlin Press
Vancouver, B.C.
1990
The Taste of Giving is a selection from the poetry of Carolyn Zonailo, written between 1975 and 1990. This collection brings together work from seven previous books and chapbooks, plus new and uncollected poems. The ordering is largely chronological.
Carolyn Zonailo is a lyric poet with a distinctly original, profoundly intimate voice. A poet dedicated to her craft, Zonailo expresses the particulars of landscape and experience in poems that are animated, vivid, and compassionate. Above all, Zonailo's poetry is infused with emotional vitality. In her introduction, scholar and critic Jean Mallinson describes Zonailo as a poet who "insists on finding and using words for a world which is at once phenomenal and numinous, at once transient and charged with human meaning."

Critical Praise for The Taste of Giving: New & Selected Poems
"This is a woman poet in quest of her mythic and historical heritage. Her Doukhobor ancestors and their tradition of radical dissent and non-violent civil disobedience is claimed as part of the poet's aesthetic: 'there's a tradition/ of walking naked/ in my history.' …This is a poet driven to seek spiritual and creative power. The journey is inward, the path descends, spirals to the bottom of the sea, brings us back to 'the breathable blue surface.'"
Dona Smyth, Acadia Journal of Canadian Poetry

"Carolyn Zonailo's poetry denies closure. She is not concerned with making explicit statements or tying up loose ends but enacts the practice of presence in her work. One flows with the tides in a long poem like 'Journey to the Sibyl', while discovering, as indeed the mythical Sibyl also realizes, that the energy of every individual and object will be constantly transformed and never destroyed."
Beryl Baigent, Poetry Canada Review

"I particularly like those springing from her Doukhobor heritage."
George Woodcock, B.C. Bookworld