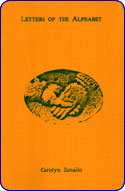 Click to enlarge.
Letters of the Alphabet
Carolyn Zonailo
Greensleeve Editions,
Winnipeg, Manitoba
1992
Carolyn Zonailo's Letters of the Alphabet is meditative, spiritual, and erotic. This collection "begins with absence" and ends with "the last word: love." Each poem is a letter to a lover, coupled with the imagery and emotion she finds in each letter of the alphabet. Carolyn Zonailo writes out of a female romantic vision, reminding us of the depth and wonder that is found in the experience of love.

Critical Praise for Letters of the Alphabet
"Not being a fan of anything mushy, I was delighted by the clear-headed intensity of your poems, their passionate maturity and, especially, their rich spiritual insights."
Barry Dempster, winner Petra Kenney Award

"I really liked the lyrical Letters, I didn't even, in the midst of reading words, envy the poet's happiness!"
Ralph Maud, Simon Fraser University